Options
EXTERIOR OPTIONS
Hull
Epoxy or Vinyl Ester barrier coating must be applied by the factory to qualify for any blister warranty protection.
Rigging
The Roller Furling option is intended to be used with the Jib Top (Lapper) as the working headsail, and replaces the Yankee.
Sails
The Jib Top (Lapper) may be ordered as a hanked on sail for those who desire the increase in sail area. It is a large sail of 330 sq ft., and puts the total Sail Area of the BCC up to 673 sq ft. Several of these sails have been built with a "bonnet", a removable lower section, attached by a zipper. The Bonneted Lapper makes the hanked-on sail easier to handle, and yields two versatile sails in one. We prefer this method of headsail reduction to the installation of reef points.
Woodwork
Teak is probably the best wood in the world for use on boats. It has the best available rot resistance, a warm color, good dimensional stability, and can be allowed to go bare (no finish) in smaller dimension pieces. It makes excellent non-skid on hatches. The biggest drawback of this material is its expense and increasing scarcity worldwide.
INTERIOR OPTIONS
Electrical
We have an entire separate document on electrical system design available here.
Galley
Refrigeration option
Glacier Bay of Berkley California has generally revolutionized the entire marine refrigeration industry. Central to the efficiency of their system is the extraordinarily high R value of their Ultra R superinsulation. The ice box is assembled using panels of insulation containing a vacuum. The resulting insulation is R50 conductive and represents both a space gain and an efficiency gain.
White Fiberglass Panels
Our standard interior has Teak Plywood on all the coachroof sides. Some prefer a lighter interior so we offer our grooved Fiberglass panels as an option.
Double Berth Option
In this configuration, cleats are added to the lower faces of the port and starboard settees. Removable slats stow on the settee faces or install athwartships to form a surface between the settees. The settee back rest cushions are mounted on plywood and fill in the center of the vessel to form a second double berth. This versatile arrangement may be configured in two ways for either sleeping athwartships or fore and aft. The pull-out pilot berth double is still functional.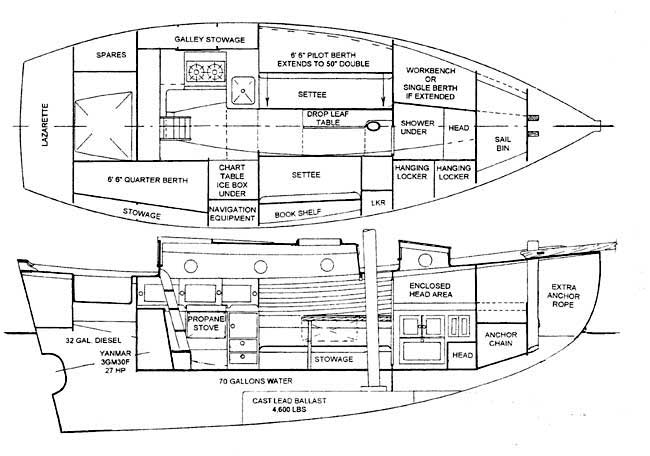 Galley and Double Berth Extension Option
By extending the Galley Sink counter towards centerline some 6" to 8", we gain space for a double sink. The result is a more U shaped galley. This same change allows the pull-out pilot berth double to come nearly all the way to the mast. The resulting width is 53" at the aft bulkhead. Please see the Plan for the Galley and Double Berth Extension Option below.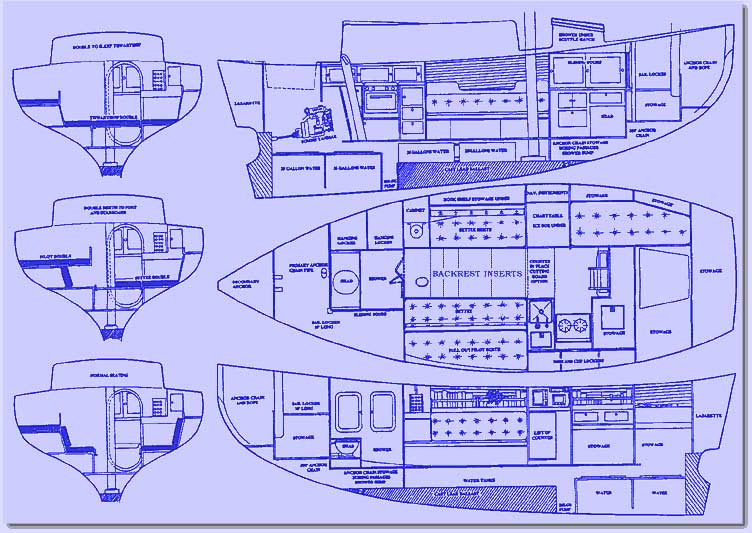 Fold Away Table Option
We offer several alternatives to our Standard Table, which is stationary. Please ask us for more information.