Features
EXTERIOR
HULL AND DECK
Fiberglass hull and deck including lazarette and port side cockpit lockers with hatches
Foam filled fiberglass rudder with reinforcement for hardware
Underwater areas utilize skin coats of vinyl ester resin
See Fabrication Process for details on these major components of the Bristol Channel Cutter
See Specifications for dimensional details.
EXTERIOR WOOD WORK
All exterior wood is Honduras Mahogany. It includes bulwarks, taffrail, boomkin, three hatches, two drop boards, rudder cheeks, cockpit coaming, boom gallows and bitts, two deck boxes for propane lockers, two hand rails, eyebrow, all trim. The exceptions are the tiller, which is laminated ash and mahogany, and the bowsprit, which is vertical grain Douglas Fir.
All exterior wood has two coats of teak oil. Bowsprit and tiller have 3 coats of Varnish.
EXTERIOR HARDWARE
Anchoring Hardware
Double chain rollers on Gammon Iron
Navigation hardware
Compass (Ritchie BN-202)
Ventilation and Natural Lighting
Six 7″ bronze Portholes
Two 5″ bronze Dead Lights on Scuttle Hatch
Skylight and Scuttle Hatch hinge in both directions to act as air scoops
RIGGING
All teak blocks
Two bronze Lewmar B30STB self tailing , two speed Jib sheet winches, mounted on bronze winch bases.
Two Lewmar B16STB self tailing staysail winches mounted on teak pads on aft cabin top
Three bronze Lewmar B8B halyard winches mounted on mast
Bronze winch cleats
Halyards of 7/16″ 3-Strand Dacron
Sheets of high quality double braid Dacron
Mast and Boom
Forespar custom welded aluminum mast and boom with double spreaders.
Steaming Lights (P&S) on Mast Below Spreaders
Tri Color and Anchor Light Combination
Delrin fid for locking retracting bowsprit in place
Standing Rigging
1 x 19 Sailbrite 316 stainless steel rigging, rotary swaged to chrome plated bronze turnbuckles.
Chain plates, tangs, cranse iron, gammon iron, boomkin plates, etc. are 304 stainless steel
Miscellaneous items
Bronze hawse ports
Bronze boom gallows knees
Three Heavy Duty Rudder Pintle and Gudgeon Sets, of silicon bronze with Nylatron bushings
Single life lines with gates port and starboard
Hatch hardware in bronze
Henderson manual bilge pump in cockpit
Companionway lock
SAILS
Main, Yankee and Staysail with sheets and sailbags
Mainsail Cover
INTERIOR
Galley Area
37 gallons of water ( Polyethylene Water Tanks) set under the cabin sole and adds to the ballast when filled.
Stainless steel plate size galley sink (12″ x 12″ x 8″ Deep)
Salt water plumbed to the Galley sink with Whale foot pump
A Brass Fynspray pump is used to pump fresh water to galley
Galley plate holder
Galley pull-up work surface
Propane Stove, Force 10 – 2 Burner with Oven
Chart table over ice box
Icebox has a large opening to accept large ice blocks
All doors and drawers have finger latches
All drawers have stops to prevent them from sliding out accidentally
A fiddle has been installed behind the sink to prevent water from running into the lockers and bins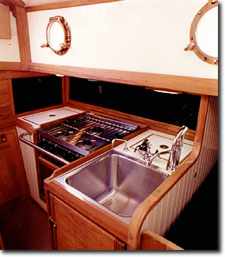 Saloon and Quarter Berth
Teak table with removable fold down leaf
Choice to have table permanent or removable
Teak liquor cabinet Pull out double berth on port side
Single settee berth on starboard side
Quarter berth on starboard side
Teak ladder hinges up to clip onto overhead or is removable for longer access
Teak battery box under ladder keeps the weight low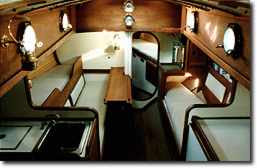 Forward Cabin
Workbench or single berth
Aromatic cedar lined hanging lockers
Head, Lavac (Vacuum) with Henderson pump
Holding Tank, 16 gallon, black Polyethylene
Workbench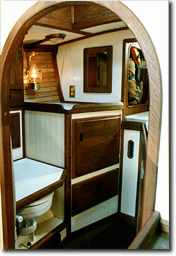 ENGINE
Yanmar 3 YM 30F 29 hp. (3 cyl, fresh water cooled)
Engine Controls – Morse Control
Dripleminum – 32 Gallon Diesel Tank
ELECTRICAL
16 breaker DC distribution panel with metering.
7 ABI Interior L/assets/images/Florescent light in the main salon.
Single house bank system of one G27 Gel marine batteries, plus a single G27 Gel engine starting battery.
Stock Yanmar alternator of 55 Amp output
Copper foil Radio Ground Strap Bonded to Lead Ballast, terminates at the navigation station and at the boomkin for backstay antenna installation.
Electrical Bilge Pump with Float Switch
GENERAL
Insulation under cabin roof, under decks and hull side
All cushions
One 10.4# Aluminum Propane tank installed in deck box