Testimonials
A few unsolicited comments from Bristol Channel Cutter owners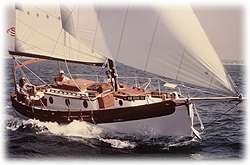 From a postcard received after completion of a rough coastwise passage
"We have had horrible weather – 20 ft. seas, 6 days of gale warnings. 18 days of small craft warnings! But, I have nothing but the greatest admiration for your little sailboat. Her seaworthiness is incredible."
From MAGGIE cruising the East Coast and Bahamas
"In Sept. I we celebrated two years aboard. It has been the best two years of my life. We're having more and more fun with almost each day."
Two letters from the owner of XIPHIAS in the Indian Ocean:
"We have recently achieved two firsts in sailing history which may be of interest. In January XIPHIAS won the inaugural Regatta known as the Phuket-Port Blair Andaman Cup Regatta. There were 5 races; the first from Phuket, Thailand to Port Blair, Andaman Islands, India; 450 miles across the Andaman Sea; then four races of approximately 35 miles each amongst the lovely islands of the Andaman's. XIPHIAS won the long distance offshore race handsomely on handicap but also beat 3 yachts of 38, 36, and 34ft easily across the line. We then won 3 of the 4 inshore races. Many of the fleet Masters and crews almost blamed me for cheating by even entering the Regatta as I had far too much ocean racing experience (2 Whitbread Round the World races, 3 Admirals Cup races, 2 World One Ton Championships, etc. etc.) … Maybe they were right but with a close reach on one tack for most of the race to Port Blair, it was XIPHIAS's powerful sail plan and her constant sea kindly motion in the rough seas, which won the day.
"I then went Southward on a voyage of exploration. We went to the Nicobar Islands and then to the magnificent chain of islands in the Indian Ocean off the coast of Sumatra. XIPHIAS visited 65 anchorages with primitive tribal communities where absolutely no other yachts or visitors had entered in over 30 years. God bless Lyle Hess and Sam L. Morse Co."
Chris Edwards
"I, as you know, have for much of my sailing career, was racing yachts to their limit. Thank God, in those days, although we all wished to cross the line first, designers and yacht owners seem to have an in-built safety factor in how yachts were designed and then raced. Advances in exotic materials and methods of construction (technology out of control I call it), have somehow led yachtsmen to believe there is no reason why they cannot charge across the seas, through heavy weather, in fair weather and in every sort of condition and sea state without doing damage to themselves or the chariot upon which they ride. But they have forgotten the basic rules of good seamanship, and neglected to take notice of the fact that whilst man's so called brilliance in technology advances in yacht designs and materials has been running amok, the very environment upon which they go and play, which is God created and timeless and eternal, the sea, the winds the waves, the currents, the gales and storms, the calms and the fogs, all remain as they have ever been… Unpredictable, confusing, awesome, and heedless of man's stupidity and ignorance."
"Speed, light displacement, exotic-fiber materials, computers, weather faxes, GPS, swing-keels, water ballast, etc. all have a place in the wide spectrum of yachting activities but none of this wizardry should in any way take away the onus of self-reliance, good seamanship and safety first. As I have written you before and told you that with "XIPHIAS", on my exploration voyages, I have grounded her a couple of times, been struck by some fearful tropical storms, and often times had to sail her to windward to clear a hazardous shoal or coast. Her strength, her perfect balance and sea-kindliness, and her ability to make headway under a variety of sail settings, has convinced me that not only is she the perfect cruising design, but also a trustworthy friend who has looked after me perhaps better than I deserve. Aesthetically, of course, there is no more lovely a little ship in all the harbours and creeks, marinas and coves all round this extraordinary world… except of course for her beautiful sisters!"
"God Bless, Lyle Hess, Sam Morse and your good self and all those who have the sense to believe in the enjoy and worth and value of integrity, tradition, strength, and curvaceous beauty."
Excerpts for a tape received from the South Pacific
"The boat can easily make 150 miles a day in the trades with the working sails only. I have made many 170 mile day and some slightly higher. I have done lots of windward sailing and I'm still surprised at how well she points up to windward. As long as the seas aren't too big I can point 35 degrees off the wind and make decent headway. The further I fall off the more speed she gains. This is really important for me because I can visit some places knowing I'll have to do some windward sailing, while other boats avoid these places."
From a Bristol Channel Cutter in Honduras:
"We are really happy with our boat. She stands up to everything we've encountered so far. One night we ran 6 knots under bare pole and the Aries vane handling very well. That was our trip from Providencia to Roatan."
From an owner in the Caroline Islands after his transpacific passage
"The boat performed very well in all kinds of weather and we have really developed a lot of faith in her. We found that even in a full gale we could take her hard to weather with the fore stys'l 7 and double reefed main, when a lot of boats her size and even larger would have to run off or hove to. I couldn't emphasize enough how happy we are with the boat, both with design and construction."
A family of three in the Bahamas
"We had a wonderful trip aboard FRITHA this spring to the Abacos Islands with our son Will (then 21 months old). The crossing was a bit rough but after that it was gorgeous sailing. We certainly would never consider making a trip like this with our young son in a boat unless it was FRITHA. She handles like a dream is easy for one of us to manage in most conditions, and the pilot berth is a safe place for Will when both of us are needed on deck."
And another statement
"During the heavy storm, which damaged so many vessels at Cabo San Lucas, we were hove to, under reefed staysail, about 150 miles SW of the cape in 65 knot winds and 25′ to 30′ seas. Our only damage was to the canvas dodger and weather cloths. The boat behaved admirably."
And, also from the South Pacific
"The boat handled everything just beautifully. I cannot even begin to express to you how happy and impressed I am with the way the boat handled everything. I have to admit, after the first gale I just have all the confidence in the world in this boat, I really do. I think she will take almost anything the seas could give her."
A letter written to the Sam L. Morse Co. from a BCC owner before he bought the boat
"I don't know if I remarked about the boatshow and your boat, but I looked where I could at the construction techniques being used by other builders and you are doing a far better job than any of the others. Your boats are going to have a good reputation as the years pass." EAGLE
From a BCC making its approach to New Zealand
"Just a note to tell you "PUFFIN" has finally outdone herself with a 187 mile day on the way to New Zealand from Tongatapu. A good deal of near gale force winds and a pinch of current has pushed us 579 sea miles in four days. It looks like 1036 sea miles in seven days, light to light."
Comments taken from a letter sent to The Southwestern Bulletin
Oct 1994, about Jim and Linda Lathrup's dream to sail around the world aboard their BCC, "There You Are". "This adventure-sailing trip around the world-has been a dream of Jim's since the 8th grade. The dream also includes some specifics, such as the exact type of boat that will sail them to adventures yet unknown. The craft, a Bristol Channel Cutter and number 102 of its kind, was hand-made in California over a nine month period. It is made of teak and fiberglass and is referred to as 'heavy displacement boat' meaning it sits deep in the water for greater stability… they have taken 2000 pounds of books aboard for entertainment… showed up at the dock with a full U-Haul trailer, and the shipwrights laughed that we would never get it all on ship. Needless to say, we proved them wrong. True to retirement values, there are no schedules set for this trip. The Lathrups plan to spend six months to one year in Mexico, then sail to South America or Hawaii. Eventually, they promise, they will make it to the Indian Ocean and someday back to the States. "When it's not fun anymore, we will come home." Last letter: March 1997, the Lathrup's were in South America and still having fun.
A letter received from a new owner of a BCC
"I can't tell you how excited we are to finally begin the realization of our dream. Just as exciting, is the chance to have 'the world's most beautiful small yacht' customized to suit us… As you know, I've looked for a quality cruising yacht for more than two years now. After having seen literally hundreds of possible boats, we settled on the BCC because, in spite of its smaller size, it has plenty of room, and offers the seaworthiness I demand for our family… We did not want a yacht encumbered by complex electrical and plumbing systems, or a yacht long on 'living room' looks but short on function. Having lots of sailing experience but limited cruising experience, I had to look to others for advice to avoid 'reinventing the wheel' and making costly wrong decisions… Among those I studied were the Pardeys, as you know. The Lyle Hess design of the BCC, combined with your companies' quality construction and our design changes to interior, all came together to give us just what we wanted We are ending up with a small yacht of the highest standards, which is seaworthy enough to cross any ocean in any condition, yet simple and affordable so that our dream will become a reality soon. Once again, thank you". Scott Strang
Excerpts from a letter received from Robert Chambers
His response to the question: "What made you decide to buy a Bristol Channel Cutter?"
"The answer is not easy, but I've tried to put down the things that influenced me. If you care to pass this along, please do so – perhaps it will help someone else make up his mind. First of all, I wanted a boat that I could sail anywhere in any weather. A boat I would have absolute confidence in, whatever the sea decided to throw at me. A proven design, built with first quality materials and workmanship, with nothing skimped or omitted A good boat, well and honestly built. Secondly, I wanted the smallest possible boat that would allow my wife and myself to live aboard comfortably. I also wanted the boat to be easy to handle, with reasonable sized sails and ground tackle. And, I wanted the maintenance to be straightforward and economical so that I could do most of it myself. Finally, I wanted a boat I would enjoy being on, both below and on deck. Admittedly, that's a lot to ask for, and after looking at dozens of boats I was beginning to think I would never find it. Not one other boat I looked at met these requirements. And I looked at a great many, from the U.S. as well as from Europe and the Far East."
"The first boats I looked at were the Oriental imports. They seemed to be commodious, well-finished, and offered a lot of boat for the money. But, each and every one of them I found to be very poorly put together, and without exception, they sailed like slugs. Underneath the beautifully finished teak furniture, the structure was crude … In short, what was on top and visible was beautifully finished, what was not visible was very badly done. These boats were obviously built by people who had no idea of how a boat must function or the stresses it has to withstand"
"The American and European boats presented a different set of problems. The main one was liners. Dropping in a pre-formed liner may be an easy way to finish off a boat but it makes access to vital parts, like plumbing and wiring, next to impossible. Another fault was the layouts (which one cannot change in the slightest). It begins with anchor and chain stowage. Nowadays we all agree that chain is the best anchor rode. But there was no place to put it except right up in the nose of the boat. That's no place for several hundred pounds of chain, plus anchors, plus windlass. They also had miserable little "V" berths shoved up in the bow. Aside from the cramped foot room, the ventilation is usually poor up there. They had head compartments that looked good on paper but were just too small for normal-sized people. Engine and shaft access was miserable.
Stowage space was usually minimal with poor access… The cockpits were large, deep and comfortable — great for a party, but just the thing you don't want when the wind is rising and the seas are beginning to build and break. I used to stand in those cockpits and imagine them filled with water — and then I'd think about what would happen in a gale with couple of tons of water pressing down the stern. But, the real problem with most contemporary boats is that they're built much too lightly. This allows the builder to keep costs down. But it doesn't keep the buyer's cost down because he has to add so many modifications to make the boat usable and seaworthy. He winds up paying more in the end than if he had bought a well-built, well-designed boat in the first place.
"I had seen your ads for the Bristol Channel Cutter and I had sent for your brochure. But I'd never seen the boat. California is on the other side of the country from where I live and you don't use dealers. Again and again, after each disappointing boat viewing experience, I would take out your brochure and compare what I had just seen to the Bristol Channel Cutter. Of course, I had all the Pardey's books and I was in complete agreement with Lyle Hess's philosophy.
"After reading Mate's book, I decided I had to see the boat. That was my first visit to your place. Within five minutes of stepping on board the boat you had in your shop, I knew that at last I'd found what I'd been looking for. Every item, every detail, was so solid, so well-made and finished and of such high quality and so intelligently thought out, I knew that this was a boat that would never let me down. It had beam, deck space… It had a long keel and outboard rudder which would practically guarantee no trouble from those sources if grounded… In materials and workmanship, nothing was skimped or neglected Everything was correctly bedded, braced or fastened And it was all of the best quality, even down to the smallest details. It was a pleasant surprise to see that your barrel-bolts didn't end simply in a hole in the wood, they all go into a recessed brass socket. I saw dozens of details like that all done the right way on the Bristol Channel Cutter… The deck layout was equally brilliant. There's space to move easily and safely fore and aft and to tend to sail handling and anchors. Of course, the bulwarks are pure luxury. Yet no other boat anywhere provides bulwarks like these. The hull shape too, is to my way of thinking… I've sailed a number of heavy displacement boats like this and they are very seaworthy, maneuver surely and steadily and heave-to under virtually all conditions."
"This Bristol Channel Cutter is not for everyone… But if someone wants a real cruising boat, there is no better built boat than the Bristol Channel Cutter. There is just nothing else like it of comparable quality anywhere. At this point, I want to say a heartfelt thank you for building such a fine vessel with such integrity. You don't build many boats, but each one is a masterpiece. Decades from now they will still be sailing and admired wherever they go. And, I wager confidently that they'll hold their value like nothing else being produced today."