About Our Boats
Nineteenth-century England produced many fine cutter models, some of the best of which were working boats from the west of England such as those of Itchen Ferry, Falmouth and the Bristol Channel. These were heavy displacement vessels with good beam and firm bilges, enabling them to sail well with cargo and to stand up to wind and sea in heavy weather. Some vessels were especially notable for their performances in off-season racing and many came to be built solely for that purpose.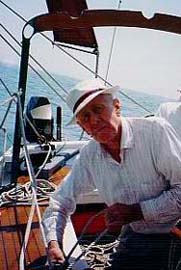 Designer Lyle Hess had long admired these remarkable craft and he determined to incorporate their unusual qualities into a more modern design, yet retain the beauty of the originals. Renegade was the first of a series of Cutter models, which has brought Mr. Hess great distinction in his field. Renegade was a beautiful gaff rigged yacht and was fast-surprising ocean racers in the 1950's by winning twice in the Newport to Ensenada race. Larry Pardey admired Renegade and asked Mr. Hess to design a marconi rigged sistership. He did, and Lin and Larry built Seraffyn and sailed her around the world. Seraffyn became familiar to thousands through the Pardey's books, articles and lectures. With their message of "go small, go simple, but go now," they have kindled a tremendous interest in small boat cruising. You may read much more from the Pardey's as they continue their cruising life in their new, larger Taleisin.
Mr. Hess created our Bristol Channel Cutter to be built in fiberglass, but with the many wooden components that give her a classic beauty, rarely seen in yachts of today. The B.C.C. has, like Renegade, placed first overall in the Ensenada race and has logged days of up to 183 nautical miles on ocean passages. Itineraries of cruises undertaken by owners of these yachts include the South Pacific Islands, New Zealand, Australia, Mexico, Hawaii, Alaska, the Caribbean and our Atlantic, Pacific and Gulf coasts.
Inspired by the successes of his ideas, Mr. Hess went again to his drawing board and designed a smaller 22-foot version-our Falmouth Cutter. We build her as we do the Bristol Channel Cutter… for going to sea. She is a true cruising yacht, with the heavy displacement necessary to provide capacity for the stores and equipment required for a long voyage. Displacement is not only weight-it is cubic space, inside the hull, below the waterline where you need it most. Displacement and waterline length are the two best criteria of a yacht's real size.
Our boats are not mass produced-there is no assembly line-we build to customer order only, and since we sell direct, we develop a close working relationship with each buyer. Every boat that leaves our yard bears the personal imprint of its owner in the custom modifications we have made to suit his needs. We build very carefully, so we can truthfully say "this is a proper yacht for ocean cruising". She is very strong, we have used the best materials, and we conform to the highest standards of construction. She is an honest boat and you can place your trust in her. If you really want an ocean cruiser, isn't it wise to have her built like this?